Posted in
Local Events
@
Dec 26th 2015 11:41pm
- By Administrator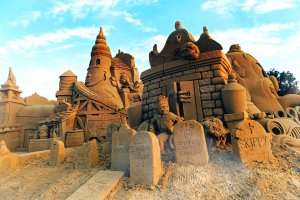 Surfers Paradise on the Gold Coast has become popularly known for its yearly held Sand Safari, a precinct of art inspired by the region's sand and sea. Back this year, the Sand Safari promises to be bigger than ever before, thanks to the awesome teamwork among our friends from Streets Ice Cream.

For 24 days, Surfers Paradise will transform into an enchanted wonderland featuring sand and sea themed art with pop-up photographic galleries of works by professional and amateur photographers as well as school students who fancy photography. You can also catch a beautiful glimpse of enormous inflatable sculptures throughout Surfers Paradise by international artists such as Filth Luker & Pedro Estrellas, and edgy mural art by 40/40 Creative.

To make things more exciting especially for Kung Fu Panda fans out there, you can expect (Master) Po and the rest of his Dreamworks friends from Madagascar, Shrek, and more carved in large sand sculptures at the yearly Australian Sand Sculpting Championships along the foreshore and the Gold Coast Sand Trail. The championships will also challenge ten artists to carve sculptures of your favourite heroes in 10 tonnes of sand. Visitors can also check out awesome sculpture and photography exhibitions where you can have heaps of your photos taken at the display.

The Sand Safari events include: Sand Trail (5 to 28 February), National Sculpture Competition Exhibition (5 to 28 February), Live on-site Sculpting (6 to 11 February), National Art Competition (6 to 28 February), Photography Competition (6 to 28 February), Schools Art Competition (6 to 28 February), Australian Sand Sculpting Championships (12 to 28 February). So keep these dates in mind and look forward to a sandy vacation ahead! Better yet, start planning your trip to Surfers Paradise by looking for the perfect place to stay today. For Surfers Paradise family accommodation, you can choose from Surfers Tradewinds Holiday Apartments for a cosy home away from home.

Surfers Tradewinds Holiday Apartments offers you a variety of Surfers Paradise Apartment accommodation that are tailor-fit to your family's space requirements. All of our apartments are spacious enough to comfortably fit your family. The tropical gardens and barbecue area spruce the establishment's picturesque landscape further. Meanwhile, you can also treat yourself to a refreshing swim at our pool or relax with our heated spa. Other premium services we offer are the convenience of having an in-room massage services and our reliable on-site managers who are ready to attend to your concerns 24/7.

What's even better is that Surfers Tradewinds Holiday Apartments is just a short walking distance away from all the fun. Apart from this, you and your family can take a stroll outside to engage in other leisurely. Book your Surfers Paradise Apartment Accommodation today by visiting http://surferstradewinds.com.au.
Image Source : Sand Sculpting Australia