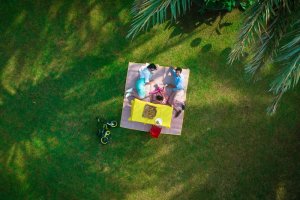 Queensland's Gold Coast isn't all beaches! If you love nothing more than settling down for a picnic, the Gold Coast has a host of must-visit picnic spots to find where you can enjoy a moment of peace and quiet along with a bit of nature and wildlife on the side.

In a quick read, here are our top 7 picnic spots on the Gold Coast!
Broadwater Parklands
With a view of the passing yachts, there isn't a more fitting spot to set up a picnic than on the sparkling waterfront in the Southport Broadwater Parklands. This modern parkland is wide-open with lawns, clean strolling paths and even a small pier that extends into the marina.
Tallebudgera Creek / Currumbin Creek
Pack a picnic and head to Tallebudgera Creek or Currumbin Creek - located either side of Palm Beach Gold Coast, these two picturesque creeks offer the perfect picnic setting on their sandy banks, where you can enjoy the view, fish or hop in a kayak.
Burleigh Head National Park
Work up an appetite in Burleigh Head National Park, then lay down a picnic blanket among the trees. This small rainforest park has numerous walking trails - offering tropical flora, wildlife and birdlife to see - and just as many hidden and public picnic spots to come across for the perfect shaded picnic.
Macintosh Island Park
Macintosh Island Park is a tranquil oasis between Surfers Paradise and Main Beach, enjoying a small part of Macintosh Island next to the Nerang River. Take a walk through the trees next to running creeks and streams, then settle down at the riverfront for a picnic in what is one of the Gold Coast's most peaceful locations.
Gold Coast Regional Botanic Gardens
The Gold Coast Botanic Gardens offers manicured garden displays, ponds, fountains and sun-lit lawns, setting the scene for a memorable or romantic picnic among nature and birdlife! This public garden is open all year.
Cascade Gardens
Despite the name, the Cascade Gardens in Broadbeach is a public park with playground amenities, toilet facilities, a public rotunda and a Korean war memorial. Its picturesque, laid-back environment is perfect for picnics, which you can enjoy on the grass, on a bench or at a picnic table.
Kurrawa Park / Pratten Park
Both touching Kurrawa Beach in Broadbeach, Kurrawa Park and Pratten Park are two sweeping beachfront parks where picnics can be enjoyed in the sun, under a tree or next to the sand with views of the Pacific Ocean! Just footsteps from the beach, these neighbouring parks are perfect for enjoying an instant change of pace and scenery while tucking in.
Stay with Surfers Tradewinds Gold Coast
Situated in Broadbeach, we offer affordable 1, 2 and 3 bedroom apartments Gold Coast accommodation - ideal for travellers, couples, families and groups looking for all the comforts of home in a prime central location on the Gold Coast!

All our budget holiday apartments are fully self-contained - available with WiFi - and complete with secure undercover car parking for all guests.

For more information, just visit Surfers Tradewinds.