Posted in
Accommodation
@
Jun 28th 2017 6:20pm
- By Administrator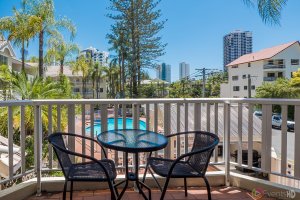 Surfers Paradise is a lovely holiday destination for everyone who is yearning for unforgettable new moments with the best people one's life, or simply for self-discovery. No matter what your reasons may be, the Gold Coast is just here, waiting for you. Compliment your travel goals with a relaxing escape to Surfer Tradewinds!

With its broadest range of sophisticated Surfers Paradise Family Accommodation, you'll definitely have loads of options to choose from. So whether you're in the mood to splurge or save, need a room just for yourself or for a party of seven, we've got you all covered, fam!

Let the beautiful views of the lush tropical gardens and barbecue area help you look forward to exciting days ahead. These and more premium facilities are available for all of our guests. At Surfer Tradewinds, you're assured of a personalised experience. You may choose to begin your day with a refreshing dip at our sparkling pool, lounge using our heated spa, or book an in-room massage service. Plus, you get 24/7 on-site management so you won't have to worry about anything else.

Plus, because Surfers Tradewinds is located at Cnr Beach Parade and Wharf Road Surfers Paradise, we are just a short walking or driving distance to your favourite tourist-friendly destinations.

Get your soul-searching vibe on and explore all the good things life has to offer. Get lost in the music brought to you by bands and buskers happening almost every night, or fill your heart with joy as you attend theatrical show at the Gold Coast Arts Centre. For shopaholics, heaps of weekend markets are just a heartbeat away. Embark on a unique shopping experience that helps the local communities by selecting from a plethora of featured handmade products, fresh local produce, and more locally made items.

If extreme sports is right up your alley, then indulge in the staggeringly vast array of exhilarating sports activities, such as: horse riding, flyboarding, surfing, tandem skydiving, and more.

Find a place where relaxation and adventure mix. Book your preferred Surfers Paradise accommodation deal today by simply visiting https://tradewinds.etourism.net.au. Our online booking service is made fast and easy!