Posted in
Local Events
@
Apr 12th 2016 10:45pm
- By Administrator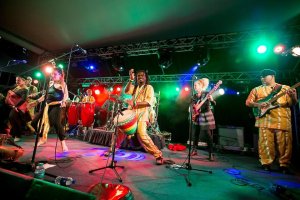 Give your jazz music playlist major upgrade. Our awesome buddies from Broadbeach Alliance is inviting you to be part of the Broadbeach Jazz Festival on the Gold Coast! Happening from the 20th to 21st of August 2016, this year's edition of the festival weekend will be a healthy mix of mainstream jazz with a bit of fringe and family vibe. Get your heart set to hearing your favourite local bands in various performance spaces, plus heaps of roving street entertainment and eclectic street markets to spice up the festive atmosphere.

This free event will feature acts such as: Queensland Youth Orchestra Big Band, The Living Room, Caxton St Jazz Band, Louie Shelton, Maggie Britton, Kerbside Collection, The Poodle Ladies, Lady in Lights, Nicole Parker Brown and Kevin Briggs, ABC 4 Kids Lah Lah's Big Live Band, Galapagos Duck, Wilbur Wilde's Blowout, George Washingmachine's Gypsy 5, The Jason Machado Group, Heidi Hoops, Gemma Giraffe and Ranger, The New Orleans Marching Band Swingers, Frazer Goodman, among plenty of others.

Catch them live at The Oasis, Kurrawa Park, Surf Parade stage, Lola's Restaurant, Niecon Plaza, Broadbeach Mall, Victoria Square Fountain, Oasis Shopping Centre, Surf Parade, and Sofitel. Plus, catch a diverse lineup of art and craft markets along with a broad array of activities for people of all ages throughout Broadbeach. Visit http://www.broadbeachjazz.com for more details.

Meanwhile, feel right at home with Surfers Tradewinds Holiday Apartments. We offer you sophisticated rooms to suit your lifestyle needs. Imagine being able to start your mornings with a refreshing dip at our sparkling pool while appreciating the view of our lush tropical gardens. Our spacious barbecue area make for delightful lunches with the bunch. We also have in-room massage services and a reliable on-site management for your convenience.

Plus, Surfers Tradewinds is just a heartbeat away from everything you love about Surfers Paradise. Explore its vast attractions and wonders plus enjoy a Gold Coast Sunday sesh with your bestest of friends.

Book your Three Bedroom Apartments Gold Coast today by visiting https://tradewinds.etourism.net.au. It's fast and easy!
Image Source : Broadbeach Jazz Weekend