Posted in
Local Events
@
Sep 24th 2019 12:47pm
- By Administrator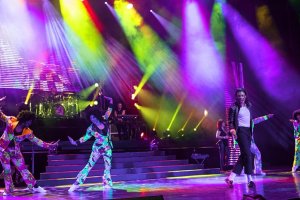 If you're yet to be amazed this 2019, head to the Gold Coast this November or December for a world-class live show at The Star Gold Coast. Located in Broadbeach, The Star Gold Coast Casino boasts some of the best live entertainment in Queensland, and with the incredible lineup that's just around the corner, there isn't a better way to send off the year with a bang!

At Surfers Tradewinds Gold Coast, be near The Star Casino as you relax in one of our one, two and three bedroom Gold Coast family apartments. Ideal for couples and groups, our modern, self-catering accommodation offers an affordable holiday in the heart of the Gold Coast, just minutes away from the best Gold Coast restaurants, attractions and beaches.

For the perfect incentive to escape this spring and summer, have a look at what's soon to come at The Star Gold Coast:
Dita Von Teese Glamonatrix
Burlesque superstar Dita Von Teese will be in the flesh at The Star Gold Coast for her brand new world tour Glamonatrix. Where burlesque is concerned, few do it better than Dita Von Teese, known the world over as the "Queen of Burlesque".

All-new sets and costumes with Dita at the forefront make Glamonatrix the world's most sought-after burlesque show this 2019 - don't miss it on November 26.
America 50th Anniversary
Join America to celebrate their 50th anniversary with an unmissable performance at The Star Broadbeach! Armed with their huge back-catalogue, America will offer the experience of a lifetime for diehard America fans in Queensland complete with all their most recognisable hits such as "Horse with No Name" and "You Can Do Magic".

See Dewey Bunnell and Gerry Beckley live at The Star Broadbeach Casino on November 30.
Adam Thompson Bohemian Rhapsody
Adam Thompson will bring the 2018 blockbuster Bohemian Rhapsody to life this December with the full soundtrack performed live alongside the We Will Rock You Band.

Queen fans won't want to miss this performance, which will see the Chocolate Starfish frontman himself lend his powerful voice to all the biggest Queen songs over the years, including "Somebody to Love", "We Will Rock You" and "Bohemian Rhapsody". Bohemian Rhapsody Live comes to The Star Gold Coast on December 7.
Michael Jackson HIStory Show
Internationally acclaimed Michael Jackson tribute artist Dantanio will pave the way towards an exciting 2020 with three explosive performances before the New Year! Famous the world over, Dantanio offers the most authentic homage to Michael Jackson, complete with energetic backup dancers, a live band and a spectacular light show.

Feel like you're watching the King of Pop himself when Dantanio takes to the stage in full MJ getup, with all the moves mastered and a convincing voice to boot. Michael Jackson HISTory Show returns to The Star Gold Coast on December 27, December 28 and December 31 - the ultimate New Year's party this year!

Find more information on our Surfers Paradise apartment accommodation near The Star Gold Coast and browse our affordable direct rates today - just visit Surfers Tradewinds Holiday Apartments.