Posted in
Local Events
@
Apr 22nd 2019 12:22pm
- By Administrator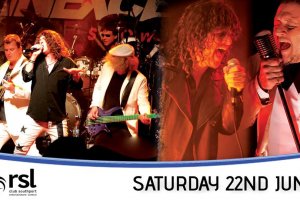 Young Hearts Run Free
Hear "Young Hearts Run Free", "You and Me Song", "Kissing You" and other '90s hits performed live on HOTA's Outdoor Stage in Young Hearts Run Free.

This special dedication to the 1996 film Romeo + Juliet is the glorified soundtrack live on stage with a lineup of Australia's most talented musicians, complete with a masquerade theme that isn't to be missed for fans of the iconic Baz Lurhmann remake.

Young Hearts Run Free comes to Home of the Arts in Surfers Paradise on June 1.
Aussie Rock Double
Enjoy back-to-back Cold Chisel and INXS in Aussie Rock Double - a full-blown Aussie rock performance featuring renowned Australian tribute bands Chisel Revived and INEXCESS.

Made up of world-class homegrown musicians with decades of experience under the belt, Chisel Revived and INEXCESS deliver two of Australia's leading rock bands with authentic quality that guarantees to have fans of both Cold Chisel and INXS on their feet from start to finish.

Catch Aussie Rock Double at the RSL Club in Southport on June 22.
Billy Ocean
"When the Going Gets Tough, the Tough Gets Going" singer Billy Ocean comes to the Gold Coast with an exclusive performance in Broadbeach - a must for fans and anyone who grew up during Billy Ocean's chart-topping reign in the '70s and '80s.

Billy Ocean's songs are some of the most successful hits of the '70s and '80s, which saw him become a household name across the globe with three of his albums reaching Platinum-selling status.

See the man himself live at The Star Gold Coast in Broadbeach on June 24.

Be near HOTA, the RSL Club and The Star Gold Coast with our affordable Surfers Paradise apartment accommodation. Plan your stay now at Surfers Tradewinds Gold Coast.