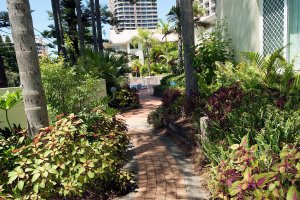 Our Gold Coast Family Apartments have facilities and services to keep your littlies occupied.

Your kids will love our Games Room. They get to meet other kids and have a blast. The kids get to spend hours playing in the Games Room.

We also offer babysitting services so you can have some quality time alone. Our helpful and responsible staff can look after your kids for a few hours while you enjoy a romantic dinner or a stroll along the beach.

There are also a number of family-friendly attractions near our Gold Coast Family Apartments.

Experience an unbelievable attraction unlike anything you've ever seen. Step into an amazing world and journey into 20 futuristic, maze-like worlds of wonder.
Experience a sensory overload filled with unique special effects, atmospheric sound fields, ultra groovy music, and illusions. Gasp in wonder at the marvelous effects.
Reality fades, and you get thrown into a world of sheer spectacle.

Infinity is the first of its kind. It is a mind-blowing interactive fun-house that stretches the imagination and takes you to places far beyond your wildest dreams. This 40-minute journey is suitable for adults and children above 8 years old. It can easily fit into your schedule. It is great fun for the family, for a group of friends, for birthdays, and special occasions.

Infinity is open from 10am to 10pm daily. It is located at Chevron Renaissance.

There is a fun and exciting way to learn about history. Take an incredible walk through history and learn about the influential people who have shaped the world.

The Gold Coast Wax Museum features 110 life-size wax figures and dioramas. See the World in Wax exhibit and marvel at the wax figures of Mohandas Ghandi, Adolf Hitler, former Prime Minister John Howard, former Prime Minister Bob Hawke, President Barack Obama, past President John F. Kennedy, King Hussein, President Nasser, members of the Royal Family and many more. You will also find wax figures of celebrities like Kylie Minogue, Miley Cyrus, Michael Jackson and others.

The figures are amazingly life-like. Crafted by leading local and overseas sculptors, all the details from the hair, to the costumes and accessories create a snapshot of history.

To learn more about Infinity, go to www.infinitygc.com.au

To find out about the Gold Coast Wax Museum, visit http://waxmuseum.com.au

To book our accommodation, go to http://tradewinds.etourism.net.au