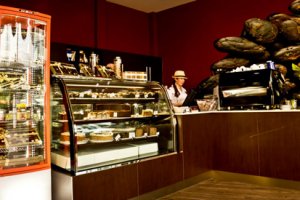 Indulge in cakes, ice cream, chocolates and other sweet treats. Give in to your guilty pleasure and pamper yourself with your favorite desserts from Aztec Chocolate, Movenpick Surfers Paradise and Pancakes in Paradise all just a few minutes away from our Surfers Paradise Family Accommodation.
Aztec Chocolate
Chocolate lovers converge at Aztec Chocolate. This decadent chocolate house is famous for its handmade chocolates, liqueur truffles, boxed chocolates, cakes, cheesecakes, cookies, muffins, waffles and chocolate fondue. Aztec Chocolate's heavenly melt-in-your-mouth chocolate treats are simply divine. Try their equally luscious specialty coffees and hot chocolates.
Aztec Chocolate is set at The High Street. Head over to Aztec Chocolate for your sweet fix.
Movenpick Surfers Paradise
Savor rich creamy ice cream made from top quality natural ingredients. Movenpick ice cream does not contain artificial colours or flavourings. Born out of a passion for gastronomy, Movenpick creates the finest ice cream.
Movenpick is located at Soul Retail, 4 the Esplanade, Surfers Paradise. Head over to Movenpick Surfers Paradise and share a "Movenpick moment".
Pancakes in Paradise
Get your energy going with a hearty breakfast at Pancakes in Paradise. This famous family restaurant gives you value for your money. Serving breakfast, lunch and dinner, Pancakes in Paradise also offers an all you can eat pancake special. The servings are generous and the food tastes sensational.
From pancakes to sweet or savoury crepes, breakfast all day, and main meals including steak, ribs, chicken and fish meals, Pancakes in Paradise serves hearty comfort food.
Pancakes in Paradise is just a short stroll from Cavill Mall. Enjoy a stack of pancakes at Pancakes in Paradise.
Image Source : Aztec Chocolate