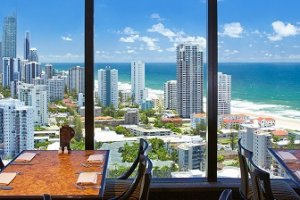 Just a 5-minute walk from our central Gold Coast family apartments, Four Winds 360 is a must-visit Gold Coast restaurant that offers a dining experience like no other.

Find this famous restaurant on the Gold Coast Highway coming out of Broadbeach, where you can savour a unique dining experience while taking in breathtaking revolving sights of the ocean and the surrounding Gold Coast hinterland.

Four Winds 360 is the only revolving restaurant in Queensland, making it an unmissable stop on your Gold Coast holiday! As well as spectacular views, Four Winds delivers on taste with a mouthwatering Seafood and Australian Fusion Menu, which caters to both lunch and dinner seven days a week.

From hot and cold entrées and meats to a fantastic seafood and main course selection - including a number of vegetarian and gluten-free options - Four Winds 360 has something for everyone, all of which is carefully sourced and prepared to look as good as the surrounding view.

A popular dish is the Hervey Bay scallops - pair it with a fresh salad, then make sure to complete your visit with one of Four Wind's decadent desserts, which includes cheeseboards, tiramisu, panna cotta, vanilla cheesecake, butterscotch pudding and more.

Four Winds 360 offers regular promotions and discounts, so make sure to check what's on offer before your visit!

You can enjoy the world-class dining experience at Four Winds 360 Revolving Restaurant with our Surfers Paradise apartment accommodation at Surfers Tradewinds. We're just a stone's throw away from Four Winds, where you're guaranteed a comfortable stay in one of our modern and fully self-contained 1, 2 and 3 Bedroom Apartments.

Book your Gold Coast holiday near Four Winds 360 today at Surfers Tradewinds Gold Coast.