Posted in
Accommodation
@
Oct 14th 2015 8:20am
- By Administrator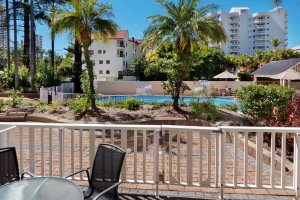 For most people, nothing can beat the act of eating. With all the delicious food that are easily accessible and has become easy to cook all thanks to online recipes, and the tempting restaurants sprouting everywhere, who can resist taking samples of those that promise undeniable tickles in your palates and total satisfaction for your tummies?

So on your trip to Surfers Paradise, pick the Gold Coast family apartments that have not just a fully equipped kitchen, but also a barbecue area where you and your family or buddies can endlessly have fun while eating all those food you either bought or diligently cooked.

With this, choose Surfers Tradewinds Holiday Apartments. We have three unit options: One Bedroom, Two Bedroom, and Bedroom Apartments. And whichever you get, there is a squeaky clean kitchen with all the facilities you need such as microwave, oven, and refrigerator. So you can cook anything you want, as long as you have all the ingredients you need. And because our Surfers Paradise family accommodation has a refrigerator, you don't have to go back and forth to the grocery store to pick up the meat, fish, and other perishable items because you can just some them all there.

We also have a barbecue area that is set within the beautiful tropical gardens to make your every meal extra special, memorable, and satisfying. With our barbecue area, your breakfasts, lunches, and dinners will be more delicious because it is not only your sense of taste and tummies that get catered at, but also your sense of sight. And with the tropical garden's soothing effect, you will get to relax as you fill your stomach.

If you book our accommodation, you'll also enjoy our other guest facilities such as swimming pool and heated spa for your daily exercise and unwinding moment, and our in room massage service for your convenience and relaxation.

Meanwhile, all our rooms are fully self contained and has all the amenities you need for a great and cosy stay. There are comfortable leather sofa and television in the living area, table and chairs in the dining area, soft, irresistible beds in the bedrooms, and a spacious, relaxing private balcony.

Book your stay at Surfers Tradewinds Holiday Apartments by visiting http://tradewinds.etourism.net.au/.