Posted in
Local Events
@
Feb 13th 2016 4:52pm
- By Administrator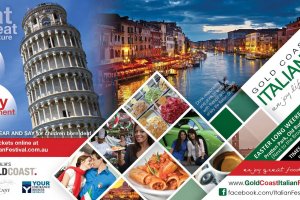 Experience the best things life has to offer, in true Italian fashion. Be part of the first annual Gold Coast Italian Festival as it descends on Broadbeach. Our awesome friends behind the successful Brisbane Italian food and wine festival is back to paint the Gold Coast red, green, and white, to give you a taste of Italy - from fine food and Italian wines, music, family entertainment, and fast cars. Make Pratten Park part of your travel destination as a family from the 26th (10:30 AM to 10:30 PM) to the 27th (10:30 AM to 8 PM) of March 2016.

"We really want to bring an Italian-style street festival to the Gold Coast that gives festival goers a chance to try some real Italian street food. Our intention is to offer a chance to try things our grandmothers made." says Alessandro Sorbello, festival producer.

For an entrance fee of only $7, you'll get to hang out at Broadbeach's version of Italy. Children under 12 get in for free. Experience authentic Italian food, entertainment and history altogether. You can secure your tickets online by visiting http://goldcoasttickets.com.au/event/gold-coast-italian-festival-2262.

Meanwhile, you can feel right at home with Surfers Tradewinds Holiday Apartments. We offer you sophisticated, fully-furnished rooms to suit your family's fun-loving lifestyle. All of our apartments are spacious to comfortably fit a group likes yours.

Take advantage of our first-rate amenities, and feel like royalty. Imagine being able to start your mornings with a refreshing dip at our sparkling pool. Other premium services we offer are the convenience of having an in-room massage services and our reliable on-site managers who are ready to attend to whatever concerns 24/7. Our lush tropical gardens and barbecue area make for delightful lunches with the bunch.

What's even better is that Surfers Tradewinds is just a short walking distance away from all the exhilaration. So take your time getting comfortable. After settling down for a while, be ready to explore! The possibilities are endless. Book your Surfers Paradise Apartment Accommodation today by visiting https://tradewinds.etourism.net.au. It's fast and easy!
Image Source : Italian Festival