Posted in
Local Events
@
Sep 11th 2015 2:27pm
- By Administrator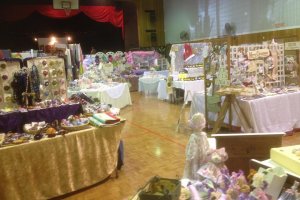 Christmas is not until a few months away, but who says you cannot get ahead and give your loved ones presents earlier?
If you love all the people close to you and would like to give them early Christmas presents because you heart just can't contain your appreciation toward them, you're welcome to visit Craft Extravaganza Christmas Fair.
Happening October 24 to 25, 2015 at North Tamborine, the fair will be housing all sorts of gifts that follow the gifting trends so you know you're up to date on what your loved ones may like to receive for this year.
Around 50 craftsmen from local and South East Queensland are converging in this exciting event so watch out for some of the best items with the lowest prices. With Christmas as this year's theme, the Craft Extravaganza Christmas Fair will feature a huge selection of our Christmas favourites, Santa Claus' and St Nicholas' statues, snow men, Christmas décor, Christmas cards, table runners, and other Christmas goodies.
You will also ogle on non-Christmas items such as country woodwork, wooden signs, ragdolls, jewellery, quilts, hand bags, hand painted china, and a whole lot more so you're guaranteed tons of gifts for your loved ones from this fair.
The fair is open for everyone especially our wheelchair using friends. Our aisles will all be spacious so there'll be a lot of room to move comfortably. Its parking lot is free, and credit facilities will be available inside.
With a two-day event packed with the best items, you may need a Gold Coast family apartments to stay in. With that, why not choose Surfers Tradewinds Holiday Apartments?
Located at the great Surfers Paradise, you won't only get satisfied with your shopping spree, but also with all the attractive tourist destinations you can take advantage of going to since you're already on the Gold Coast.
What's great with our Surfers Paradise family accommodation is that our units are all spacious and fully furnished giving our every occupant the satisfaction while being away from home. Our units comprise of fully equipped kitchen and laundry area, ceiling fans, air conditioner, cable TV, bathroom with shower and toilet, cosy bedroom with comfortable beds, and a private balcony.
Our facilities include a swimming pool heated spa, barbecue area within the tropical gardens, and the exciting in-room massage.
Book a room to Surfers Tradewinds Holiday Apartments by visiting http://tradewinds.etourism.net.au/.
Image Source : Craft Extravaganza