Posted in
Accommodation
@
Mar 26th 2015 3:43pm
- By Administrator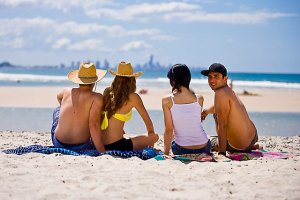 If you want to spend an exciting and enjoyable holiday, spend it on the Coast with the Most. Spend the entire afternoon trying out the different water activities on the Gold Coast. The beaches of the Gold Coast are renowned all around the world for their perfect surfing waves. Get stoked by riding the perfect wave. Try riding a jetski, paddling an ocean kayak, or trying out windsurfing. Laze around in the sand and get a tan. Enjoy the beautiful Gold Coast sunshine and take in the beautiful seaside ambience. Play an exciting game of beach volleyball with your friends and family. Take out a Frisbee and let her spin for some fun times. Take a nice stroll along the pristine shore of the Gold Coast and enjoy the sound of waves lapping against the beach. Feel the fresh sea breeze brush against your face.
Try out different delicacies from around the world on the many award-winning restaurants and cafes around the Gold Coast. From the very best of Thailand to fancy French cuisine, the Gold Coast has it all. Some of these restaurants are located by the beach so you can enjoy your meal in a unique beachside ambience.
After your exciting day, come home to Surfers Tradewinds Holiday Apartments. Our holiday apartments are fully furnished and elegantly designed. They contain everything you need for a relaxing and comfortable break. Our Surfers Paradise Apartment Accommodation is equipped with complete laundry and kitchen facilities for your convenience. Feel free to cook your own home-cooked meals right in your own apartment.
Our holiday apartments have their own sun-drenched balcony where you can get some air and sunshine. Enjoy the warmth of the Gold Coast sun and get a tan. Set-up a nice al fresco breakfast on your balcony for a unique experience.
Book now at http://tradewinds.etourism.net.au