Posted in
Local Events
@
Mar 30th 2016 10:56am
- By Administrator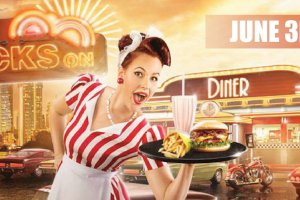 Join the whole of Coolangatta and Tweed Heads celebrate the very best of the '50s and '60s on 3rd to 13th of June 2016. Whether it's Rock 'n Roll or classic vehicles, there's surely something in store for everyone looking to have an awesome time in this part of the Gold Coast! Are you ready?

Cooly Rocks On will take you back to an awesome time when swing music and Rockabilly dominated the airwaves. Fuel your days with the tastiest vintage-styled food found in food stalls and nearby cafes. Get cheap bargains from various retro and craft market stalls. Feast your eyes on some specialty exhibits featuring motorcycle accessories, specialty car parts, and pinstriping methods.

Enjoy two weeks of great music on the Marquee, Beach House Stage, Seagulls, Tweed Bowls Club, Cooly Bowls, and Greenmount Surf Club, Sands Hotel, and Cooly Hotel, where you can expect electrifying performances from acts such as: Zed 28, Hal Bruce, The Koffin Rockers, Atomic Hi-Tones, Dean Vegas, The Hemis, Little Billy, A Band Called Twang, The Soul Men, Wally and the Gators, Dezzie Dee and The Stingrayz, PPR Express, Buddy Love and the Tremors, Mark Rigney, Catfish and the Deejays, Damian Mullin, Corn Liquor, Late for Woodstock, Miss Teresa and Her Rhythmaires, 3 Shadys and The Lady, Kris Knight, Ezra Lee and The Havoc Band.

Visit http://www.coolyrockson.com for more details.

Meanwhile, feel right at home with Surfers Tradewinds Holiday Apartments for you and your buddies. We offer you sophisticated rooms to suit your lifestyle needs. Imagine being able to start your mornings with a refreshing dip at our sparkling pool while appreciating the view of our lush tropical gardens. Our spacious barbecue area makes for delightful lunches with the bunch. Other guest services we offer are the convenience of having in-room massage services and our reliable on-site managers who are ready to attend to whatever concerns you may have during your stay.
A long day outdoors is not enough. Celebrate the good times at Gold Coast cocktail parties.
Book your Surfers Paradise Apartment Accommodation today by visiting https://tradewinds.etourism.net.au.
Image Source : Cooly Rocks On