Posted in
Accommodation
@
Dec 11th 2015 11:15pm
- By Administrator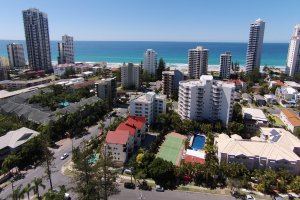 Are you revving up for your ultimate trip to Surfers Paradise soon?

Choosing this side of Queensland is probably the best travel decision you've made this year. What better way to jumpstart your wonderful journey complimented with a luxurious stay at Surfer Tradewinds!

Feel right at home with Surfers Tradewinds Holiday Apartments for you and your family. We offer you sophisticated rooms suit your family's fun-loving lifestyle. All of our apartments are spacious to comfortably fit your family. Our lush tropical gardens and barbecue area make for delightful lunches with the bunch.

Imagine being able to start your mornings with a refreshing dip at our sparkling pool. Other premium services we offer are the convenience of having an in-room massage services and our reliable on-site managers who are ready to attend to whatever concerns 24/7.

What's even better is that Surfers Tradewinds is just a short walking distance away from all the exhilaration. After settling down for a bit, be ready to explore!

Explore a world exploding with flavours by trying out restaurants on the Gold Coast. If you're into live music and parades, Surfers Paradise never runs out of activities and events inspired by Australia's vibrant arts and cultural landscape.

Explore over 100 beachfront market stalls for nifty gifts and fantastic bargains while being serenaded by local talented buskers. You can also enjoy a game of volleyball or two with your little ones, or simply laze by the shoreline while sipping your favourite beverage bought from nearby foodstalls.

If you're yearning for more adventures. Go ahead and explore some of Surfers Paradise's famous attractions. Perhaps plan a trip to Infinity, take your boatride experience a notch higher with Jet Boat Extreme, discover whole new dimension with 7D Cinema, or have a fright of your life by entering Dracula's Haunted House. You can enjoy these cool activities and more as a family!

Explore the possibilities. Book your Surfers Paradise Apartment Accommodation today by visiting https://tradewinds.etourism.net.au. It's fast and easy!