Posted in
Accommodation
@
Oct 26th 2015 6:31am
- By Administrator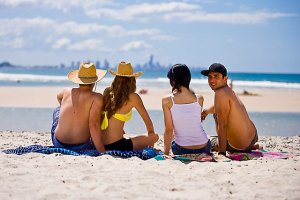 Since you'll be in Surfers Paradise quite soon, surely you're now very excited. And because there are more than 25 tourist attractions waiting for you in this bustling suburb, it is perfectly okay to feel that way. In fact, it was hailed as the 6th Theme Park because of how awesome the place is. And apart from the attractions, there are tons of dining places to choose from from Japanese to Greek, to seafood and steak, which are guaranteed mouth watering to everybody.

A trip to Surfers Paradise wouldn't be complete without dropping by Surfers Paradise Beachfront. It sure is nice to soak in the water to swim or do any water sport you love doing, feel the heat of the sun against your skin, or simply play with your mates and enjoy the sceneries around you.

But did you know that there's more than just the sea and the sands on this famous Gold Coast beach? Try being here on a Wednesday, Friday, or Sunday and you'll be amazed at how stalls start appearing all over the place once the clock hits 4pm, as the beachfront then transforms to Surfers Paradise Beachfront Markets.

Like magic, you'll find it unbelievable how around 120 markets conquer the long stretch of Surfers Paradise shoreline. And with all the markets around, expect to acquire even those hard to find items you're searching for such as accessories, jewelleries, fashion apparels, artworks, photographs, and others that may be considered as rare.

To give its visitors an amazing ambiance all throughout their shopping experience at Surfers Paradise Beachfront Markets, musicians are positioned in various areas to serenade everyone, even those who are simply relaxing amidst the busy venue.

Now that you're aware of the Surfers Paradise Beachfront Markets, it's time you get to know the best accommodation provider for you: Surfers Tradewinds Holiday Apartments.

Although our Gold Coast family apartments is located in a bustling suburb, expect that you'll be able to relax and enjoy your every night with us. With choices of One Bedroom, Two Bedroom, and Three Bedroom Apartments, you're guaranteed a restful stay especially with our fully self contained and completely furnished units.

For more information about our Surfers Paradise family accommodation, visit http://tradewinds.etourism.net.au/.