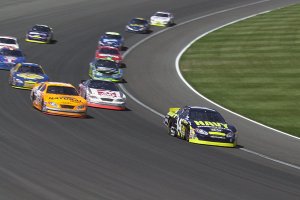 Get into the front seat of a race car without the risk! Feel the sensations a professional race car driver might feel--the rush of adrenaline, the exhilarating speed, and the excitement of reaching the finish line first. Racecentre is Australia's most advanced racing simulation centre. It is designed to give drivers the most realistic racing experience possible.
You get to select your car be it a Formula Ford Simulator, V8 Race Simulator, or F1 Race Simulator. You get to choose any worldwide track you'd like to race on as well. After a quick briefing about the simulators and controls, you are ready to race! Choose from the novice, intermediate, or advanced level.
Try the Practice Round and familiarize yourself with the track and the car. Lock in for the Qualifying Round. Finally, get set for the Final Race. Put everything on the line and race to win.
There are eight purpose built racing car simulators which are configured on one server. You get to race with one another in a true race format.
There is no age limit, but drivers have to be able to reach the pedals and the steering wheel at the same time. People with medical problems, neck or back injuries, and pregnant women should be cautious about trying the simulators.
Racecentre is located at Orchid Avenue, Surfers Paradise, within minutes from our Surfers Paradise Apartment Accommodation.
Book a slot at Racecentre, and may the best racer win.
To find out more, go to www.racecentre.com