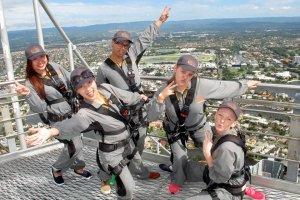 As they say, the sky is the limit. So how about reaching that limit and feel like you're on top of the world?

On your trip to Surfers Paradise, you can experience almost anything. Aside from the pristine beach and pearly white sand that can make you love the ocean and nature more, there are more than 25 tourist attractions all packed in this busy suburb. Each is there to keep every tourist constantly on their feet and on the go to the next great destination that will surely keep them thrilled.

So if it's the sky that you're targeting in this amazing suburb, there's one that will truly make your experience one of your most memorable—SkyPoint Climb.

Situated at Surfers Paradise Boulevard, SkyPoint Climb is a must go to attraction if you're a thrill seeking and if you want to go as high as you can. One of the best on the Gold Coast and Australia's highest external climb, this adventure lasts 90 minutes from the start to the end and will definitely leave you awestruck all throughout since this is an open air adventure done on one of Queensland's most renowned landmarks, the incredible Q1 Resort Building.

Go as high as 270 metres above sea level, get your adrenalin rushing, and enjoy the majestic views of the Gold Coast's beaches, sands, lush tropical mountains, city scape, and as far as the your sight can see, 360 degrees.

If you have moderate fitness and strength levels, you're most certainly welcome to try this heart pumping adventure. Such requirement is needed due to the fact that about 280 stairs will be climbed as well as mid length step ladders. Then climbers need to keep standing for the whole duration of the climb course which lasts up to 30 minutes. Full body control and good hand eye foot coordination is a must so as not to need any support of walking aids, which will not be provided by the company or will be allowed during the adventure.

If you think you passed the climbing requirements, then go ahead and include this amazing attraction to your itinerary.

For your holiday apartments Surfers Paradise, Surfers Tradewinds Holiday Apartments always has its doors open for you.

To know more about our Surfers Paradise apartment accommodation, visit http://tradewinds.etourism.net.au/.
Image Source : SkyPoint Australia