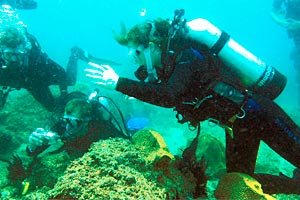 Explore the spectacular underwater world in the Gold Coast and be fascinated by the thriving marine environment in the region. At Surfers Tradewinds Holiday Apartments, we highly encourage everyone to take to the ocean as you dive in and discover the wonderful underwater world in the Gold Coast. Our knowledgeable staff at our Surfers Paradise apartment accommodation have provided a number of excellent dive sites located around the Gold Coast.
COOK ISLAND
A mere short boat ride from our Surfers Paradise family accommodation, you'll discover the stunning dive site off the coast of Cook Island. As one of the most popular dive sites in the Gold Coast, Cook Island is an ideal diving area for both beginners and advanced divers. Cook Island is an unspoilt marine reserve with a rocky terrain covered in hard and soft corals, has a depth of 10-20 metres and is also home to several aquatic creatures such as turtles, groupers, puffer fishes, blind sharks, nurse sharks, wobbegong sharks and leopard sharks.
SCOTTISH SHIPWRECK
Visitors at our Surfers Tradewinds Holiday Apartments can explore one of the most well known ship wreck dive site in the region, the Scottish Prince wreck. With a length of 64 metres, the iron barque with three steel mast sank while voyaging from Scotland to Brisbane. The Scottish Prince ship wreck is covered with sponges and corals which commonly inhabited by a variety of sharks and tropical fishes.
NINE MILE REEF
A mere 40 minute boat ride from our Gold Coast family apartments, Nine Mile Reef has a depth of 10-30 metres and has a rocky reef terrain where you'll find common aquatic inhabitants like turtles, manta rays and sting rays. Recommended for intermediate divers, this awesome dive site is also home to some amazing yet dangerous variety of sharks such as the grey nurse sharks, hammerhead sharks, blind sharks, bronze whaler and leopard sharks.
For bookings at Surfers Tradewinds, click here.
Image Source: goldcoast.com.au