Posted in
Local Events
@
May 18th 2019 3:39pm
- By Administrator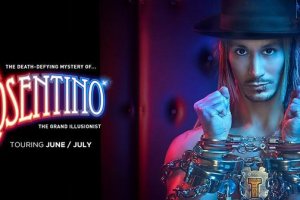 Escape to the Gold Coast this July for fun in the sun, world-class attractions and premier dining, and make your stay even more unforgettable with Anything Is Possible - the brand new tour from adrenaline-pumping escapologist Cosentino.

Coming exclusively to The Star Gold Coast in Broadbeach - just minutes away from our Gold Coast family apartments in Surfers Paradise - Cosentino is all set to blow your mind with more death-defying escapes and illusions as seen on his numerous appearances on Australia's Got Talent, Asia's Got Talent and America's Got Talent.

A longtime fan of Harry Houdini, Cosentino - who hails from Victoria - has been performing escapes since an early age, and there are few who welcome danger like he does on stage and live in front of a nail-biting audience, where his heart-stopping feats involve fire, knives, bear traps, cages, chains and more, sprinkled with illusion and tricks that dazzle and befuddle even diehard aficionados of magic and escapology.

Anything Is Possible is Cosentino's brand new tour that will see him return to the stage for the umpteenth time with more daring escapes, mind-blowing illusions and feats that guarantee to have you clutching on the edge of your seat from start to finish. He'll be coming to The Star Gold Coast in Broadbeach for one night only this winter, which you can catch on Monday, July 8 - just moments away from our central location at Surfers Tradewinds Holiday Apartments.

Choose from our 1 and 2 Bedroom Apartments today and look forward to a thrilling holiday on the Gold Coast where Surfers Paradise, Broadbeach and our superb onsite facilities are yours to enjoy. View our affordable prices today and book directly with us for July at Surfers Tradewinds Gold Coast.