Posted in
Local Events
@
Jan 8th 2019 8:49am
- By Administrator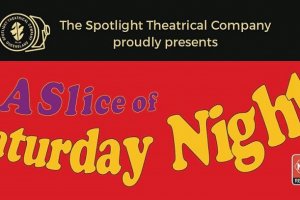 Spend the evening at Club A Go Go in The Spotlight Theatrical Company's upcoming production of A Slice of Saturday Night.

Faithful to the ever-popular musical by The Heather Brothers, A Slice of Saturday Night is a treat for old-souls, adults and teenagers alike as it follows seven teenagers on a night out at the trendiest joint in town: Club A Go Go. It's an on-stage pastiche to the songs of the '60s with inspiration taken from cult classic coming-of-age musicals such as Grease. Enjoy all-original songs with nostalgic dance choreography, twist-worthy live music straight from the songbook of The Heather Brothers, and a story of seven too-young-for-love teens that will have you smiling all the way through.

A Slice of Saturday Night has been produced more than 300 times worldwide, with notable productions having appeared on both Broadway and the West End. This 2019, it arrives on the Gold Coast with a 17-day run at The Spotlight Theatre, and for those that have always wanted to take a time machine back to the '60s, make sure to catch A Slice of Saturday Night during March 22 and April 7.

Have a much-needed Gold Coast holiday this autumn and during your visit don't miss The Spotlight Theatrical Company's production of A Slice of Saturday Night, which you can see within a ten-minute drive from our Surfers Paradise apartment accommodation. Our fully furnished 1, 2 and 3 bedroom apartments invite couples, families, and groups to enjoy a central location on the Gold Coast where Surfers Paradise, Broadbeach and more will provide countless ways to enjoy your time on the coast.

Find more information now by clicking Surfers Tradewinds Holiday Apartments.