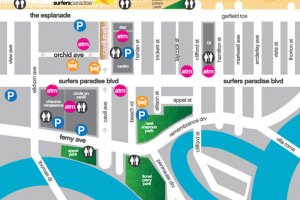 Experience a delightful retail therapy at the Surfers Paradise Beachfront Markets. Witness as the lovely beachside becomes a bustling and lively avenue of stalls filled with colourful and exquisite items that are locally produced. We at Surfers Tradewinds invite tourists to stroll by the Beachfront Markets and soak in the soothing beachside atmosphere while shopping for tasty treats, useful homewares, and lovely trinkets for souvenirs.
Surfers Paradise Beachfront Markets are conveniently located nearby the sparkling shores and is also just a short stroll from our three bedroom apartments Gold Coast. Stalls are set up at the beachfront promenade and stretches over half a kilometre along Surfers Paradise beach. During Wednesdays and Fridays, locals and tourists flock to the Beachfront Markets to fill their shopping baskets with lovely gift items, souvenirs, art, craft as well as delectable dishes and desserts.
Guests visiting our holiday apartments Surfers Paradise can leisurely shop for beautiful and unique gift items, art, craft, mouthwatering foodstuffs and much more. Surfers Paradise Beachfront Markets features more than 120 stalls where you can find a wide range of products, goods and services. The Beachfront Markets have stalls that sell plants, potteries, homewares and furniture. Shoppers can pick up a few lovely items such as exquisite bush crafts and ethnic arts, colourful ceramics and rare collectibles that you can keep as souvenirs. You'll also find a lot of fashion stalls where you can purchase cute dresses and clothes for you and your kids. After a few hours of strolling around the Beachfront Market, you can stop by and relax at one of the booths that provide massage services or better yet you can head on to the food section where you'll get to sample the most scrumptious gourmets and desserts in Surfers Paradise.
For bookings at Surfers Tradewinds, click here.
Map Source: Surfers Paradise Beachfront Markets - www.surfersparadise.com/markets/