Posted in
Accommodation
@
Jun 24th 2015 5:52pm
- By Administrator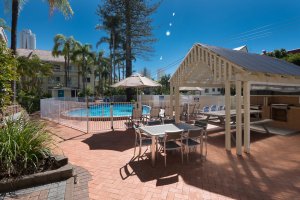 Surfers Tradedwinds invites holidaymakers to spend their Gold Coast Holiday with us. We promise to make you make your holiday more relaxing and enjoyable.
We provide our holiday guests numerous facilities to complete their holiday experience. Go for a refreshing morning swim in our pool to start your day of adventure. You can also go for an evening swim to burn off some excess calories. During colder weather, we keep our pool heated so you can go for a swim whenever you like. We have a spa where you can relax and unwind after a long day of exciting activities on the Gold Coast. Step in, relax, and unwind. Let the heat and bubbles melt your stress away and soothe your tired muscles. What better way to top off your exciting day than a nice relaxing soak in our spa? If it's your first time on the Gold Coast, don't worry. Our Surfers Paradise apartment accommodation provides a BBQ area, where you can take relax and cook a leisurely dinner . Nestled in lush and dreamy tropical gardens, the barbecue area is the perfect setting to unwind after a funfilled day.
We invite you to stay in our one, two, and three bedroom apartments on the Gold Coast. All of our holiday apartments Surfers Paradise are air-conditioned and fully equipped with kitchen facilities including microwave ovens and dishwashers. Each apartment features two large balconies, ideal for soaking up the fresh sea air and year-round sunshine. Feel free to set up a nice al fresco breakfast on your balcony. You can also stay informed and connected while on vacation at Surfers Tradewinds with our Foxtel cable colour TV and wireless internet access. Linen is supplied and all apartments are serviced weekly by the friendly and approachable Surfers Tradewinds staff.
Book now at http://tradewinds.etourism.net.au