Posted @ Sep 12th 2011 11:18am - By Administrator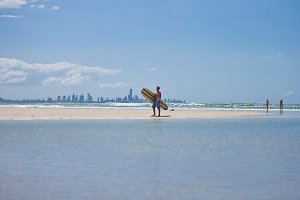 The Gold Coast area has pristine coastline that makes it one of the most popular tourist destinations in the world. The fine sand, temperate waters and rolling waves are ideal for exciting water activities such as surfing and swimming.
Before going on a holiday, make sure that you have secured your reservations at our Surfers Paradise apartment accommodation. Surfers Tradewinds Holiday Accommodation offers guests access to a wide variety of activities, including surfing. You can check out our roomy three bedroom apartments Gold Coast that can fit you and all of your surfing gear. After dropping off your luggage at your apartment, you are now ready to explore the infamous surfing spots in Surfers Paradise. Make sure you pack these essentials:
Waterproof Camera
You might want to take pictures in and out of the water so make sure your tool won't be damaged by sea water. Of course, while riding the waves, you would want to be photographed.
Sunglasses
While walking or just lounging around Surfers Paradise, make sure that your eyes are protected from the bright sun with decent sunglasses. Check the product if it has ultraviolet reflection.
Sunscreen
Enjoying the Gold Coast doesn't mean you can expose your skin to harmful rays of the sun. Before leaving Surfers Tradewinds, slather on sunscreen that has at least SPF 30. Remember to reapply sunscreen every 2 to 3 hours.
Swimming Gear
It can be a bikini for the ladies or board shorts for the guys. It doesn't really matter because Surfers Paradise welcomes any type of beach attire. But if you're going to ride the waves, make sure your swimsuit is secure enough to withstand surfing. It might also be a good option to wear a rash guard or wetsuit.
Surfboard
How can you go surfing without a surfboard? You can use a boogieboard, shortboard, longboard, funboard, fishboard or paddleboard but make sure you know how to use it. Boards are available for rent in case you don't own one, just ask the staff at Surfers Tradewinds for information.
For bookings at Surfers Tradewinds, click here.