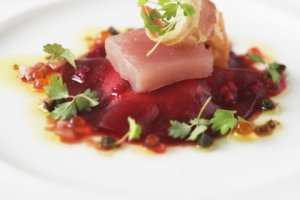 Aside from the magnificent beaches, nightclubs and shopping centres, Surfers Paradise in Gold Coast is also a fine hub for exquisite gastronomy. Holiday makers at our Surfers Paradise apartment accommodation can have their choice of delectable cuisines at some of the best Surfers Paradise restaurants. Give in to your cravings as you dine in style at some of the most renowned restaurants located nearby Surfers Tradewinds. We have listed down a few food places that will surely delight your palates.
Bazaar
Located nearby our three bedroom apartments on the Gold Coast, Bazaar is the flagship restaurant of QT Gold Coast that offers diners with mouthwatering eat-all-you-can buffet of seafood, meats, produce, and desserts. You can even have your food freshly cooked at one of their live cooking stations. Have your fill of their fresh From the Marketplace menus that include Whole Mud Crab Stir Fried with Ginger and Garlic (with angel hair pasta, parmigiano-reggiano, chilli flakes and lemon zest) and Giant Bone-in Rangers Valley Rib Eye (with potato puree, sauce bearnaise, black pepper and green beans).
Benihana Japanese Steakhouse
Benihana Japanese Steakhouse serves excellent steak dinners as well as an array of delectable seafood cuisines complimented by their extensive wine collection. Take pleasure on a hearty servings of Chateaubriand (choice cut tenderloin), Fillet Mignon and Imperial Steak, Rocky's Choice (hibachi steak & chicken), Benihana Delight (hibachi chicken & king prawns), and Seafood Deluxe (king prawns, scallops, hibachi bug meat & snapper papillote).
Picture Lounge and Dining
Just minutes away from our Gold Coast family apartments, diners can get heaps of pleasure from delicious servings of Modern Australian cuisines at Picture Lounge and Dining. Choose from their scrumptious starters that include Risotto of crab, avocado ice cream, shellfish sauce as well as mouth watering mains like line caught barramundi, macadamia and gremolata crust, confit potatoes, baby vegetables, horseradish cream, & candied fennel chip.
Absynthe
Absynthe is an award-winning restaurant located at the heart of Surfers Paradise that serves only the finest Modern French cuisines. Absynthe offers diners with an array of delightful menus that include mouth watering dishes such as Crispy King Salmon (with White Beans Puree, Hazelnut, Yellow Squash & Red Wine Cubes), Twice Cooked Maryland Duck Breast (with Orange & Spice Glaze), and Free Range Steamed Chicken Breast (wrapped in Pancetta, with Goats Cheese Polenta & Asparagus).
For bookings at Surfers Tradewinds, click here.