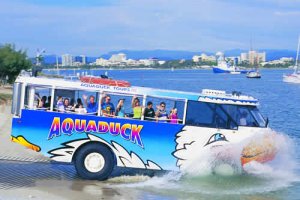 Whether on land or in water, Aquaduck takes you through the best Gold Coast sights. Weave through the streets of Surfers Paradise, or glide across the spectacular Broadwater. The amphibious Aquaduck takes you through the most iconic Gold Coast attractions all on the same vehicle.
Ride through the streets of Surfers Paradise and drive through the fabulous Gold Coast beaches and luxury homes. Duck dive into the beautiful Broadwater and feel the thrill of the splash. Enjoy unique views of Marina Mirage, Australia Fair, Mariners Cove, the Yacht Club and more onboard the Aquaduck.
A tour guide tells you about the sights and gives you the inside scoop about the area. Children would also love the chance to drive the Aquaduck for a short time. They will be awarded a certificate when they finish.
The tour just takes over an hour. You can easily squeeze the Aquaduck Adventure into your schedule. The Aquaduck Gold Coast Tour departs hourly from Centre Arcade, Surfers Paradise Boulevard within minutes from our Gold Coast Family Apartments. Book your tour now.
To learn more, visit www.aquaduck.com.au
Image Source : Aqua Duck