Posted in
Local Events
@
Mar 24th 2013 4:56pm
- By Administrator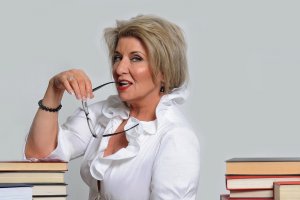 From May 7 to 10, catch The Book Club at The Arts Centre Gold Coast. Australia's leading stage actress,
Amanda Muggleton, returns to this brilliantly scripted star role to give us a hysterical peek behind the closed doors of suburbia.
Deborah's youngest daughter has finally flown the nest and her husband Wally is absent, burning off the fuel of a mid-life crisis with endless rounds of golf and tennis. Deborah is also occupied, enjoying romantic lunches with Martin Amis and passionate hotel trysts with John Updike. But that's just in her dreams. The spice of Deborah's real life is her book club. For the women who take part, it's a meeting of minds – and their very different lifestyles. For Deborah, the club is a chance to gather the juicy gossip of her friends' lives and relationships.
But when a famous author joins the group for a study session, Deborah's own life suddenly switches from an old wives' tale to the stuff of erotic fiction. The ensuing affair takes her love of linguistics to a whole new level.
Catch The Book Club at The Arts Centre Gold Coast located within minutes from our Surfers Paradise Family Accommodation. Book your tickets now.
To learn more, visit www.theartscentregc.com.au