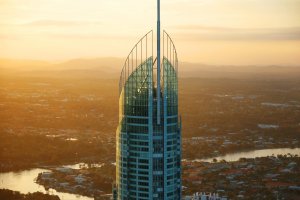 Imagine unparalleled 360 degree views of the Gold Coast region from where you are standing, 270 meters above sea level, right on top of the iconic Q1 Building. The view is simply incredible. SkyPoint Climb, Australia's highest external building walk, is an attraction you should not miss. It is located at Q1 Resort, Surfers Paradise, near our Surfers Paradise Apartment Accommodation.
The climb seems dangerous, but actually, it is perfectly safe. After a safety briefing at SkyPoint Climb Mission Control (ground floor), you will be fitted with a specially designed Climb suit and full body harness. After that, you will head to the launch platform on level 77 via SkyPoint's high speed elevator. A short step ladder will position you 240 meters above sea level. From there, you will climb to the summit. Harnessed to a purpose-built safety rail system, you will be guided up the walkway by an expert Climb Leader who will point out the city's historical landmarks.
Once you reach the summit, you will enjoy a breathtaking view of the region. Be amazed at the stunning golden beaches, the verdant mountains, and the bustling city.
You might feel hungry after that exhilarating climb. Enjoy a delicious meal at the SkyPoint observation Deck. Savor café style food like steak sandwiches, smoked salmon, and shared platters for 2. Try their signature cocktail, the "mile high", and marvel at the breathtaking view. There are also visual displays that illustrate key points of interest in the region, high power binoculars, and a Theaterette featuring the film, "The Birth of Paradise".
Be sure to include the SkyPoint Climb and the SkyPoint Observation Deck in your itinerary.