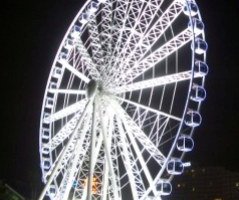 The Wheel of Surfers Paradise
Treat yourself to a ride on the Wheel of Surfers Paradise and enjoy breathtaking views over the city.
The giant, 60 metre tall Ferris Wheel is one of Surfers latest attractions and offers unique, uninterrupted views of the region's world famous white beaches, across the high-rise centre of Surfers Paradise and beyond out to the sprawling green hinterland.
Make yourself comfortable in one of the fully enclosed; air conditioned wheel capsules and get ready to take in a bird's eye view of Queensland's best landmarks. If you climb aboard during the day, you can look out over the vast Pacific Ocean glittering in the sunlight and take in the long sandy beaches teeming with people, while late evening rides offer unrivalled views of the colourful city lights. Just next door to the wheel you can grab a coffee in the café or enjoy more classic fairground rides such as the tea cups.
The Wheel of Surfers Paradise sits on the top of the Surfers Transit Centre on Beach Road, close by our Surfers Paradise family accommodation. The attraction is open every day from 10am – 11pm.