Posted in
Accommodation
@
Jul 28th 2015 6:29am
- By Administrator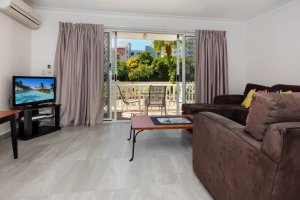 Contrary to other people's beliefs, business trips aren't exactly a privilege of a lifetime. Sure, out of town trips are for keeps, but business is still business. It is stressful, it is exhausting, and it is not a piece of cake.
If you can choose your Surfers Paradise apartment accommodation for your business trip to our suburb, you can opt for Surfers Tradewinds Holiday Apartments for its impeccable services.
Just imagine yourself back to our apartments after a hard day with your clients. You don't want to do anything else but to take your much deserved rest. Then you remember we have an In-room Massage service and you suddenly yearn for this. What you do then is simply call us and within minutes, you're already soothed by our expect masseur who knows where you need stress relief best.
Then after this restful service, you're alone again in your holiday apartments Surfers Paradise. But then you recall you still have to eat. With your muscles still relaxed, you refuse to go out. Good thing we have a restaurant delivery service and you ordered yourself your favorite food. Now you're relaxed while munching on a scrumptious meal without too much effort.
That's what you'll get from us, a total service fitted for the hardworking person in you. And as if that's not enough, everything around our entire resort is made for the comfort of people like you.
Since you are a solitary traveler, our One Bedroom Apartment is the one you need. Fully self contained just like the others, this apartment is air conditioned, with full kitchen and laundry equipment, ceiling fans, cable TV, a private balcony, and one queen bed.
Outside, we have a swimming pool and a heated spa to make you more relaxed and take a little break from your busy life.
If time may allow it, you can extend your stay with us and experience what Gold Coast has to offer. As one of the best tourist destinations, Gold Coast is home to Jupiters Casino, Dreamworld, SeaWorld, Warner Brothers Movie World, Infinity, among others, and of course, the pristine beaches you'll love to spend time at.
To book at Surfers Tradewinds Holiday Apartments, visit http://tradewinds.etourism.net.au/. Start your anticipation of great services now.